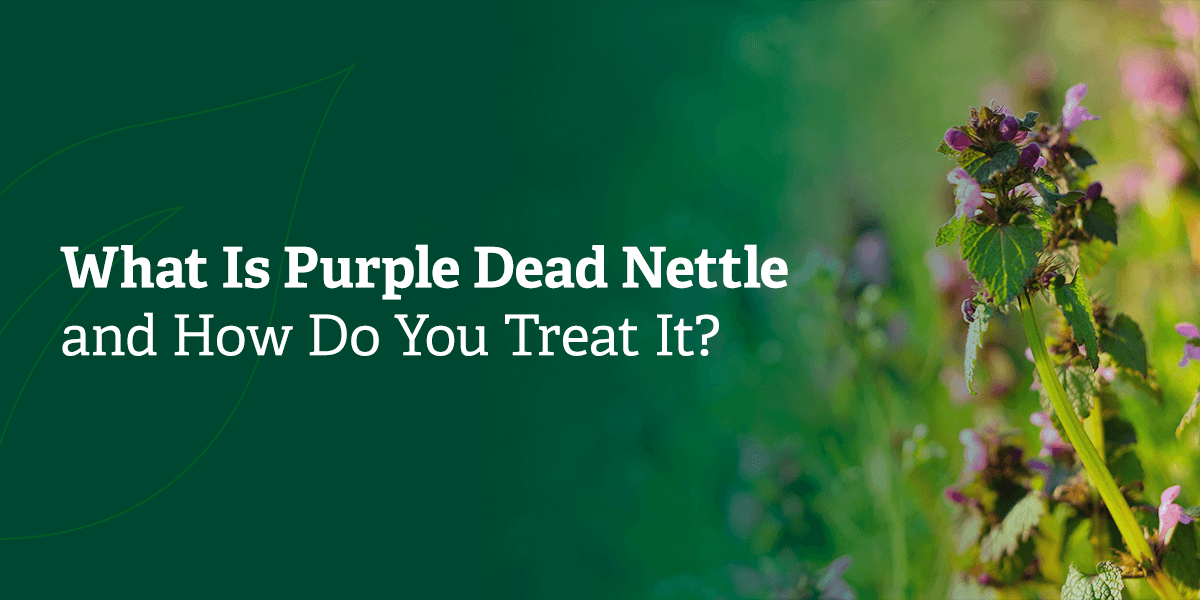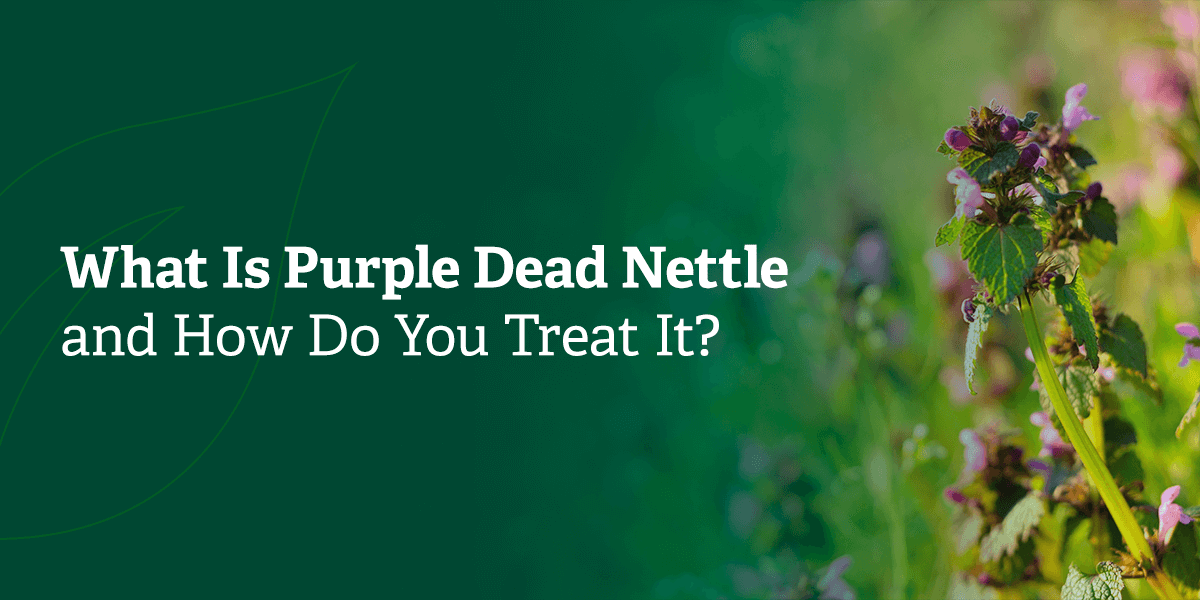 If you're wondering what the purple top weed in your lawn is, there's a good chance it's purple dead nettle. Whether you realize it or not, you're likely familiar with this plant if you live in the United States. The short, wide-growing plant is an invasive weed common in American lawns and gardens. If you want to keep your lawn healthy and beautiful, you'll have to get rid of fast-growing weeds like purple dead nettle.
What Is Purple Dead Nettle?
Purple dead nettle is an invasive annual weed found throughout North America, though it has origins in Europe and Asia. It belongs to the mint family and has the scientific name Lamium purpureum. You might be surprised to know you can actually eat purple dead nettle, and it has sweet flowers and nutrient-rich leaves. But it's an aggressive grower that takes over lawns, fields and roadsides if given the chance. It prefers shallow soil depth and dies in the hot, dry weather common in early North American summer.
Does Purple Dead Nettle Have Other Names?
You might see variations in the punctuation and spelling of "dead nettle," sometimes written as "deadnettle" or "dead-nettle." In addition, the plant has earned several nicknames since it's common in many different regions. Some of its names include:
Dead nettle:

You might see the "purple" dropped from the plant's name in some references.

Red dead nettle:

Purple dead nettle might appear reddish, earning it this slightly different name.

Purple archangel:

This name has biblical roots — an archangel is an angel of high rank. What earned the invasive plant such a favorable nickname, no one is sure.

Velikdenche:

In rare instances, you might see purple dead nettle called "Velikdenche," after a Bulgarian village.
How Purple Dead Nettle Grows and Spreads
Its reputation as an aggressive, invasive plant is well-founded. Purple dead nettle emerges in the fall and flowers and seeds throughout the following months. Each plant produces 27,000 seeds in conditions of no competition. Botanists have found its seeds viable after an impressive 660 years. This weed also has high resilience against insects and plant disease. With all these factors considered, it's no surprise purple dead nettle thrives the way it does.
Because the plant's seeds germinate before mowing season, you might not know you have an infestation until it's too late.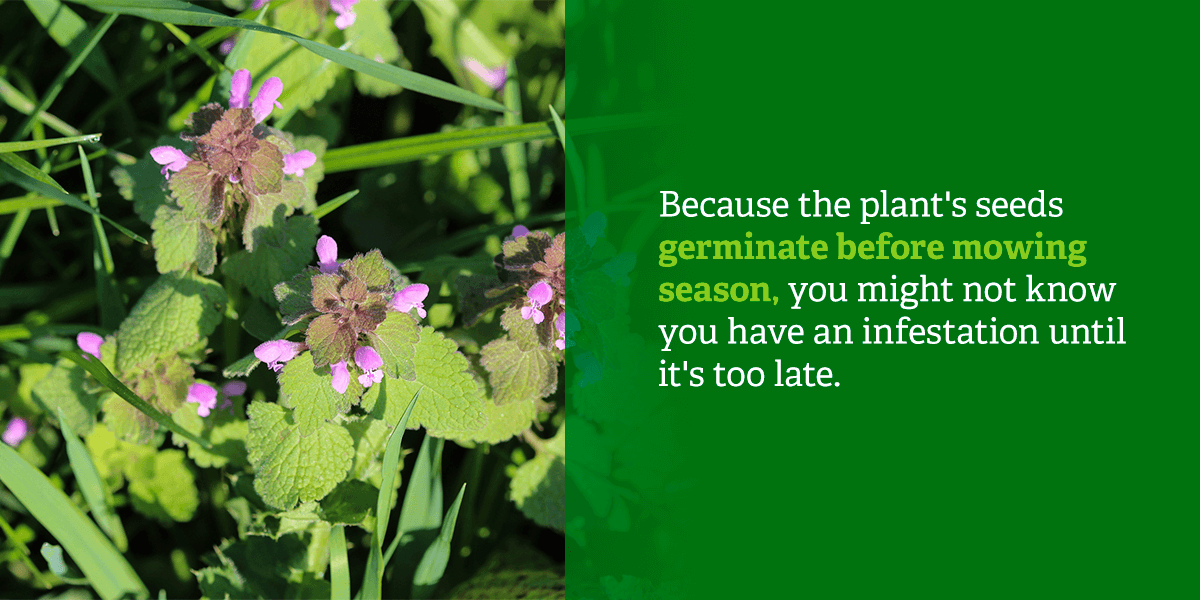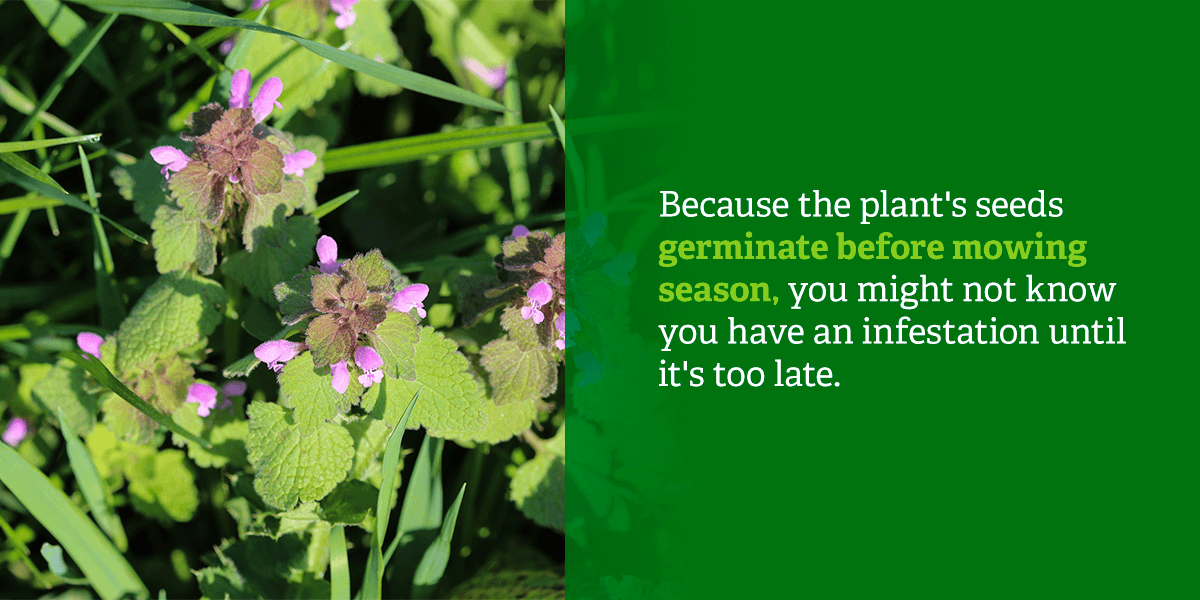 Still, it's better to take preventive measures than to have to eliminate a growing purple dead nettle population. First things first, you'll need to know how to identify it.
What Does Purple Dead Nettle Look Like?
Purple dead nettle has a characteristic look that makes it hard to miss. As a member of the mint family, it has the classic square stem. Its flowers are light purple with a small, tubular shape. Its leaves are triangular with shallow lobes, and the upper leaves have a distinct purple tint, which can also appear on the redder side.
Purple Dead Nettle vs. Henbit
You might confuse purple dead nettle with its close cousin, henbit. Henbit, or Lamium amplexicaule, is also a winter annual weed. It's common to see purple dead nettle and henbit growing side by side. Their flowers and leaves have slight variations that make them possible to distinguish from each other.
Henbit's leaves are rounder, where purple dead nettle's are triangular, with a purple hint near the top and a distinct fuzziness compared to henbit's greener leaves. Henbit's flowers are also a darker purple with a more tubular shape. Telling the two apart is not a priority for most garden and lawn owners — both are invasive weeds requiring prevention and elimination.
How to Prevent Purple Dead Nettle
The best strategy is to prevent purple dead nettle by maintaining a full, healthy lawn or garden. A thick lawn of desirable plants, such as grass, will leave no room for dead nettle to germinate and spread. Promoting lawn health takes focused effort year-round, and you may find professional lawn care services are a big help. Here are some of the strategies for keeping your lawn full and healthy:
Use eco-safe fertilizer:

Fertilizing your lawn helps maintain a thick, full carpet of grass and other desired plants. Keep in mind, some fertilizers can lead to nutrient pollution in waterways, so it's important to seek eco-safe fertilizer with organic materials.

Aerate and seed your lawn:

Aeration and seeding provide the best canvas for your grass to grow thick and healthy, creating a barrier against weeds. For desired results, seek a professional aeration and seeding service.

Keep after pests:

Pest control is crucial for promoting lawn health. Certain pests attack grassroots and create dirt patches — ideal for weeds to germinate. Other pests, like fleas and ticks, present health concerns for kids and pets. Use pest control services for your property to get both a safer and better-looking lawn.

Care for desired plants:

An effective way to keep out unwanted plants is to provide love and care for your wanted plants. Make sure your trees and shrubs have all the nutrients, fertilization and protection they need to thrive.
How to Get Rid of Dead Nettle
Despite your best efforts, purple dead nettle could still appear on your lawn — it's a fast-spreading, resilient plant. If that happens, you'll need to know how to get rid of dead nettle. A few different strategies can prove effective, including removal by hand and removal using herbicide. For the best possible results, consider hiring professional lawn care services to handle these strategies for you.
Remove by Hand
A common strategy for purple dead nettle control in lawns is to pull the weeds up by the roots and dispose of them. This option works well if you only have a few of the weeds on your lawn. Be sure to remove all pieces of the plant, as they can regerminate if given the chance.
Remove With Herbicide
If you have a widespread or persistent purple dead nettle infestation, you may need to use herbicides. A word of caution — some herbicides can have negative environmental impacts and can damage desirable plants and animals. It's a good idea to seek a professional, organic weed control service. Weed control can be either pre-emergent, creating a shield against weed growth, or post-emergent, controlling sprouted weeds.
Contact OrganicLawns to Promote Lawn Health
Invasive, fast-spreading weeds like purple dead nettle can make it challenging to keep your lawn beautiful and healthy. Purple dead nettle is one of the most pervasive weeds in North America, with each plant producing thousands of seeds and germinating early in the year. Keeping your lawn full and healthy year-round will help you prevent and get rid of purple dead nettle weeds on your lawn. If you want to maintain the healthiest possible lawn, use OrganicLawns' professional services.
At OrganicLawns, we provide personalized lawn treatment to keep your outdoor space thriving. We'll formulate the best plan of action for your unique lawn, creating a full, healthy and weed-free result. In everything we do, we're careful to use ecologically friendly methods, preserving the environment and promoting kid and pet safety. To learn more about our lawn care services or schedule a free estimate, please contact us at OrganicLawns today!