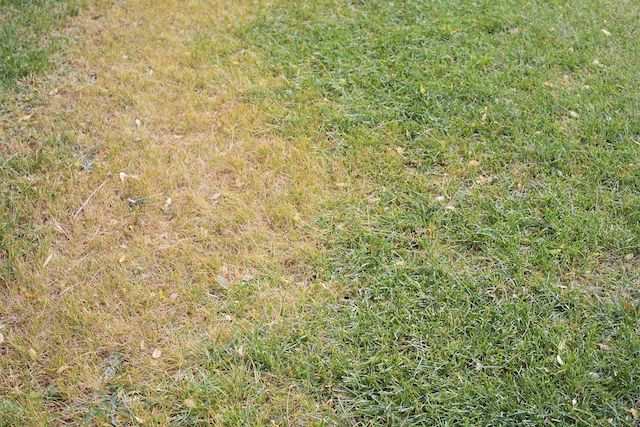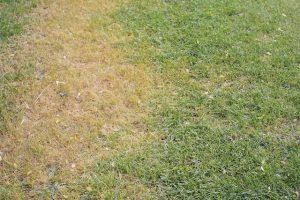 When most people envision their ideal lawn it is an even field of green grass, uniform in species, color, and length. And many people work very hard to achieve that fantasy yard. Unfortunately, there are many things that can ruin the perfection, from weeds to rogue grass types to discolored spots. If your otherwise healthy lawn is developing yellow to brown spots, there could be a variety of potential causes. Luckily, most of them are treatable, especially if you catch them early.
Critter Damage Leads to Brown Spots
Bugs are important to soil health and thus to a healthy lawn, but they can also cause issues. Grubs, for instance, eat grass roots and can cause brown damage. Damage from grubs cause the grass to feel spongy and roll up, and the discoloration is usually pretty uniform. Animals can also damage grass, especially dogs who use it as their bathroom. Dog urine has high levels of nitrogen, and the spots where dogs pee often are dark brown patches ringed in dark green. Critter damage may need to be removed and the lawn reseeded in those patches.
Brown Spots = Fungal Damage
Fungal damage is a key cause of yellow or brown spots on lawns. In a Zoysia lawn, Rhizoctonia Solani is the name of the fungus that attacks the grass sheathes during cool periods in the fall or spring and often ramps up during hot and humid weather. Fungal damage usually appears in irregular patches and spreads outwards from a central point. You can work to prevent fungal damage by dethatching (removing much of the layer of dead turfgrass between the roots and the blades), aerating, watering deeply but infrequently (drought stress is also a problem for lawns), and improving runoff. If you have fungal damage, you can try to treat it with a fungicide.
Other Damage
Foot traffic and forgotten toys can also cause discoloration on your lawn. Anything that covers a patch of grass and blocks the sun can cause the lawn to die off in patches. If possible, move toys and umbrellas or other shading items around often to prevent them from shading the same spot every day or take them inside when they're not in use.
Contact Organic Lawns Today for Eco-Friendly Lawn Care!
Since 1996, Organic Lawns has earned a reputation for itself as the finest organic lawn care company Maryland has to offer. The only thing we value as much as following ethical and sustainable lawn care practices is our customers. Consider hiring us to service the lawn of your MD home. You can count on us not just to ensure you have a lush, green lawn, but also for the highest standard of customer service.
If you are in search of reliable lawn care services in Maryland, contact Organic Lawns. We offer quality service and products at an unmatched price. Let us help you feel confident in your property. If you're interested in having your lawn treated organically by a family-owned and operated local business, contact us for a free lawn estimate, or give us a call at 410.536.5800.